Crown, Implants, and Bridges
---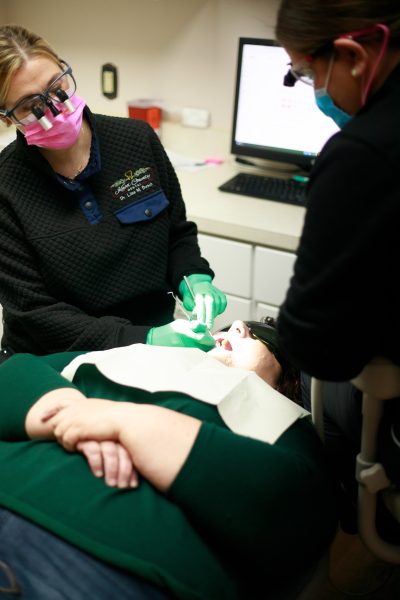 It used to be a societal norm that losing teeth was a natural course of action that couldn't be helped or prevented. While many advances have been made in preventative dentistry in order to minimize the chances, there have been great strides made in the replacement of missing teeth, and the repair of chipped or damaged fragments. The experienced Knox County Dental care team of Edina, MO is proud to offer expert solutions using state-of-the-art equipment to restore your smile and quality of life.
What is Restorative Dentistry?
Of course, the best course of action is to prevent any further disease through proper oral hygiene, regular visits for diagnostics, and consistent professional cleaning. While doing this can better your chances of staving off tooth decay and gum disease, other factors can make this an inevitability in some cases, especially as you age. Restorative dentistry is a full range of procedures and solutions that are used to treat mild to severely advanced chronic and acute diseases which can affect the teeth, gums, and facial structure and integrity.
What are The Major Types of Restorative Procedures?
While the field of restorative dentistry is vast and takes a lifetime of knowledge to acquire, there are certain common procedures that are frequently used to save your teeth or to stop the infection from spreading and making a much more complicated and expensive issue. These include:
Implants
Dental implants are molded or digitally rendered versions of your teeth that are created and subsequently placed into your mouth, usually using screws. Implants can be for single teeth in separate places, or for multiple locations where a bridge is not possible. Implants are completed with an oral surgeon in conjunction with oral surgery.
Crowns
Crowns are created to cap off the top of your tooth, usually a molar, in order to achieve many different things. This is commonly used for damaged teeth that are still fundamentally intact so that they can be supported.
Bridges
Bridges are so named because of the "bridge" together with your remaining teeth, in order to provide structure and support for the subsequent implants. Bridges are always preferable to dentures wherever possible, as it is much easier to gauge the natural fit of a row of teeth if there are some healthy ones remaining.
Your Local Quality Dentist
With every tooth in your mouth having a distinct function, it is always necessary to repair or replace even one broken, infected or missing tooth. During your appointment with the professional Knox County Dental care team of Edina, MO, you will receive the best possible recommendations and care for your unique situation.